When buying a fence charger you want to make sure it is a  "Low Impedance" charger.
Most chargers made today are Low Impedance. Years ago some manufacturers made what they called a "Weed Chopper" charger that would send longer pulses that had the ability to cut weeds off the fence.
Using a  charger like that with your new Electrobraid Fence could create a situation where the longer pulse could start to damage the Electrobraid if it ever had a direct short to something like a steel post.
Even more importantly Low Impedance chargers are rated safe for children above the age of 2 years old. 

Feel free to call us with any questions you have about ElectroBraid and we will be more than happy to help you in your buying decision.
SPECIAL OFFER* - FREE SHIPPING on Orders Over $140
Use Coupon Code - ELECT1402
Electrobraid Energizers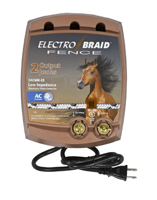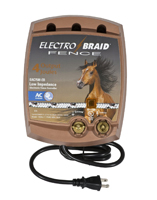 Description

Item

US$

Buy Now

ENERGIZERS

Energizers - 110 Volt Mains

ElectroBraid AC Low Impedance Energizer, 50-Mile
2 joules, 12 KV

EAC50M-EB

$142.42

ElectroBraid AC Low Impedance Energizer, 75-Mile)
4 joule output at 75 ohms; 115 volt, 60 cycle; pulsed DC output
( 1-second intervals)

EAC75M-EB

$170.48
We truly do believe ElectroBraid is the best looking, safest,  most cost effective fence available for you and your animals. It's easy to work with, looks great, requires nearly Zero maintainance once installed and allows you to enjoy watching your animals without having to look through a fence that obstructs your view.